Currently, salmon is Chile's largest non-copper export. The industry produces 990,000 tons of salmonids per year, exporting more than 5.1 billion dollars in 2019.
However, salmon farming still has significant growth potential as a sustainable industry: salmon is a healthy food with a high protein content and the lowest carbon footprint of all animal proteins, while maintaining the highest efficiency in the use of fresh water.
Salmon is a healthy, tasty, natural, high-quality animal protein with many benefits for people's health. It is low in saturated fat and calories and is an important source of unsaturated fatty acids such as omega-3s that help control blood pressure, lower cholesterol, improve vascular activity and promote neurological development. The inclusion of salmon to the menu offers new possibilities of texture, fragrance and flavor, which contribute to an improved gastronomy and better quality of life for millions of people.
In addition, salmon has environmental advantages compared to other non-marine animal proteins. It has a lower carbon footprint which continues to decrease thanks to technological advances. Salmon farming also uses less fresh water during production in comparison to other proteins.
Harvests
Since 2016, salmonid harvests have been on the rise, with an average annual variation of 11% in the last three years.
Total salmonid harvests in Chile
Year 2015: 883.102 Tons
Year 2016: 727.812 Tons
Year 2017: 855.326 Tons
Year 2018: 923.900 Tons
Year 2019: 989.546 Tons
In 2019, Atlantic salmon represented 71% of the total harvests, while Coho salmon represented 21% and Rainbow trout, 8%.
Atlantic salmon: 71%
Coho salmon: 21%
Rainbow trout: 8%
In 2019, 99.7% of the salmonid harvests came from the regions of Los Lagos, Aysén and Magallanes. The Aysén region represented 48.7% of the salmonid production, Los Lagos 39.7% and Magallanes 11.3%. The remaining 0.3% was harvested in the Maule, Biobío, La Araucanía and Los Ríos regions.
Aysén: 48,7%
Los Lagos: 39,7%
Magallanes 11,3%
Others: 0,3%
Harvests in Chile Compared to the World
Chile is the second largest producer of salmonids in the world after Norway, supplying 25% of world production.
Norway: 38%
Chile: 25%
Rest of Europa: 15%
Asia :12%
Rest of América: 8%
Others: 2%
During 2019, salmonid exports exceeded 5.1 billion dollars (FOB), representing 7% of total exports of goods and 14% of exports of non-copper goods. The average annual growth of salmonid exports in the last 3 years was 10.2%, higher than the growth registered by total exports of goods (5.2%) and by exports of non-copper goods (3.8%).
Exports in Millions of Dollars (FOB)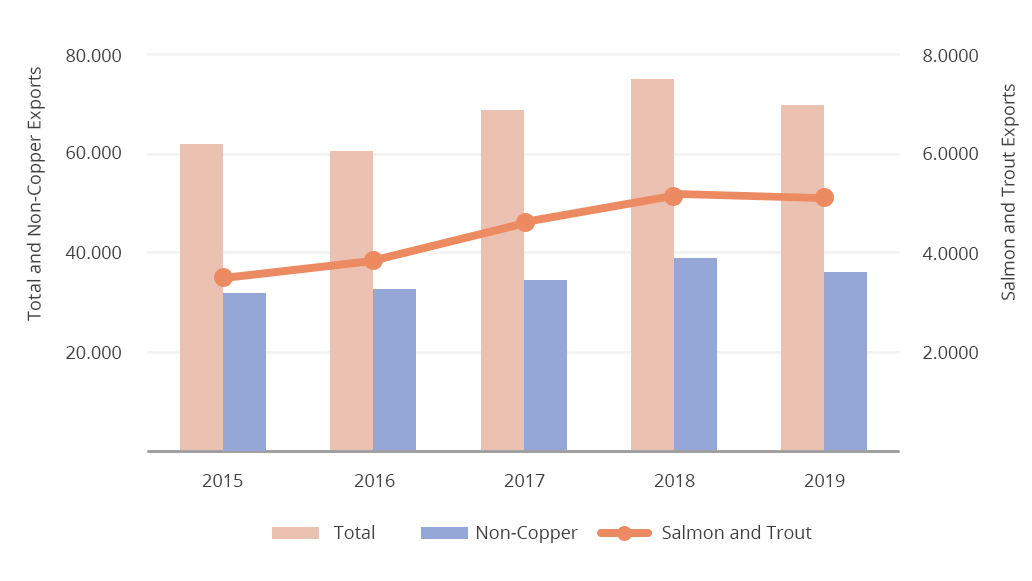 Source: Central Bank of Chile
Salmonid Export Destination (% total USD)
During 2019, salmon exports from Chile were destined for a significant number of countries. The main destination markets included the United States, Japan, Brazil, Russia and China.
United States: 37%
Japan: 21%
Brazil: 12%
Russia: 7%
China: 5%
Latam: 5%
EU: 3%
Others: 10%
Source: SUBREI, with data from the Central Bank of Chile
Chile has 4,300 km of linear coastline and 83,000 km of effective coastline. The southern zone, from La Araucanía to Magallanes, is a region of ​​great biodiversity that has not only been recognized globally, but also provides exceptional conditions for salmon farming.
These conditions include:
Thanks to these factors Chile exports salmon, on average, to 70 destinations under a sustainable production model.